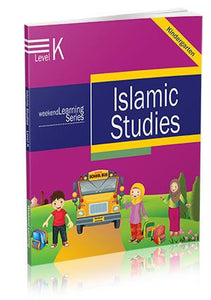 Islamic Studies Level K (Beginners Ed)
Regular price
CA $17.00
CA $0.00
Unit price
per
We have limited quantity of this book in stock. We recommend you order the Revised and Enlarged Edition of the book. 
The Islamic Studies: Kindergarten book is for 4–5 year old children. Now a days, Kindergarten is like a new "first" grade—where children learn a lot, but with plenty of fun. The goal of kindergarten is to build good feelings about school and learning. Students begin with very basic curriculum. The book emphasizes the most important academic topic—developing literacy—reading and writing. Islamic Studies for Kindergarten begins by doing the same that a regular school does—building familiarity with various aspects of written and spoken words. The objective is to introduce the basics of Islam through many activities—writing, coloring, cutting, gluing, sorting, listening or sometimes simply playing.
The Islamic Studies: Kindergarten book is a textbook and workbook—all under one cover. The book is a perfect tool to help children get the necessary foundation on Islam. The foundation begins with knowing about Allah—the Creator. The best way to know about the Creator is to look at His creations. After forming a children's concept of Allah, the book takes them to learning about Islam and Muslim. After finishing a few months of activities, the book takes the children to an early understanding of the 5-Pillars of Islam to help them progress though other areas of curriculum in the coming years. Islamic festivals, and stories of Nabi and Rasul are presented through concept-building exercises and interactive activities..
Page:144    
Binding: Paperback.  
ISBN : 978-1-936569-31-1
---
Share this Product
---